Campbell Staff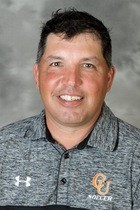 Dustin Fonder enters his fourth season as head coach of the Campbell University men's soccer team in 2018 and has the program poised to compete for a conference title and NCAA post-season play.

Campbell finished third in the Big South standings in 2017 – Fonder's third season at the helm – and produced a second winning record in three years.

All-South region forward JJ Donnelly ranked among the nation's top 15 goal scorers (13) in his first year in the program and was a first-team all-conference selection along with sophomore defender Gideon Betz. Alemu Mercer-Miko was honored as the Big South freshman of the year and was a second-team all-conference choice with senior keeper Matthew Mozynski.

Gabe Parrish was a honorable mention all-league performer, while Humberto Chaves joined Mercer-Miko on the Big South all-freshman team. Sixteen Camels were named to the Big South Presidential Honor Roll.

Under Fonder's guidance, Campbell has compiled a 24-27-3 (.472) overall record and a 12-12-1 mark (.500) in Big South Conference regular season play. His overall head coaching record stands at 102-90-21 (.528), including a 78-63-18 (.547) mark in eight seasons at High Point University.

Against Big South Conference competition, Fonder's teams have won 62 percent of their outings (51-31-11).

Additionally, Campbell players have earned Big South Conference Presidential Honor Roll status 44 times in Fonder's first three years. His Campbell teams have also earned the NSCAA team academic award in three-straight seasons.

Five Camels earned All-Big South recognition in 2016 headlined by first team honorees Edward Fulwood and Daniel Mukuna. Gideon Betz was named to the all-freshman team and picked up a honorable mention nod along with Pepe Rangel. Matthew Mozynski was named to the Big South all-academic team for the second-straight season.

Fonder made an immediate impact in his first season at the helm in 2015. Coming off a five-win campaign in 2014, the Camels doubled their win total with a 10-9 overall record and claimed the program's first winning season since 2012.

CU won its first postseason contest since re-joining the Big South Conference in 2011, knocking off Longwood 3-2 in dramatic fashion in the championship's quarterfinal matchup at the Eakes Athletic Complex. The Camels advanced to their first appearance in a conference semifinal matchup since the 2009 season.

Fonder mentored sophomore Bradley Farias, who earned Big South Attacking Player of the Year honors. Farias was the eighth Campbell player to claim the conference's top award and the first since 2009 after ranking third among all NCAA Division I players with 15 goals. In addition, Josh Signey and Daniel Mukuna were named to the All-Big South second team and All-Freshman squad.

Fonder took over the Fighting Camel program after guiding High Point University to school records for Big South and overall wins over eight seasons.

Twice named Big South Conference Coach of the Year, Fonder led the Panthers to a 39-19-10 (.647) record in league play and a 78-63-18 overall (.547) in eight seasons. His team won the 2010 Big South regular season title with an 8-0-0 record and has earned the school's first men's soccer Division I national ranking.

Under Fonder's guidance, High Point earned national rankings, produced three Major League Soccer draft picks and its recruiting classes were consistently rated among the nation's best.

After taking over the High Point program in 2007, Fonder's teams did not suffered a losing campaign since that first year. His 2009 squad finished second in the Big South standings before claiming the regular season title and a tourney runner-up finish one year later. Over his eight seasons at HPU, 38 High Point players have been recognized on the Big South all-conference teams.

Fonder recruited and coached three Panthers who earned Big South freshman of the year honors -- Shawn Sloan (2009), Adam Sewell (2010), Kody Palmer (2012) – plus the 2010 Big South player of the year Karo Okiomah.

During Fonder's tenure, three High Point players were chosen in the MLS draft – Scott Rojo (2011), Okiomah (2012) and Sloan (2013). Okiomah also became the first player to earn NSCAA All-American honors in HPU's Division I history.

Furthermore, High Point earned five-consecutive NSCAA Team Academic Awards through 2014. Sloan was a two-time Academic All-America selection by the College Sports Information Directors of America (CoSIDA).

His 2010 squad ranked fourth in the nation in scoring and eighth in won-lost percentage (16-4-1), spurring a run of three-straight seasons in which High Point led the Big South in total attendance. High Point's 2011, 2012 and 2013 recruiting classes were ranked among the nation's best.

From 2003-2006, Fonder served as assistant coach at Elon University where he helped the program improve from an RPI of 164 in 2004 to the school's first men's soccer national ranking in 2006.

Before accepting the position at Elon, Fonder was an assistant men's and women's soccer coach at his alma mater, Roanoke College, from 1998-2002. While at Roanoke, Fonder helped lead the Maroons to three Old Dominion Athletic Conference titles and NCAA Division III tournament berths. He recruited and coached 30 All-ODAC performers, three ODAC rookies of the year and two ODAC players of the year.

Fonder holds the USSF "A" license, has extensive involvement in coaching at the club level. He served as director of coaching for the Burlington Soccer Club from 2003-06 before assuming responsibilities as technical director of the Piedmont Triad Football Club in 2007. He has also served as a head coach of the North Carolina Olympic Development Program.

He graduated from Roanoke College in 1994 with a Bachelor of Science degree in health and physical education. Fonder was named the 1993 NCAA Division III player of the year before going on to a professional career in the USISL and NPSL from 1995-99.

A 2006 Roanoke College Hall of Fame inductee, Fonder also played for the men's basketball team and still holds the school career record for assists.

Fonder and his wife, Kim, are parents of daughter, Dakota, and son, Declan.